Courtesy of BlendAbout.com, we bring you a list of some of the Best Restaurants of 2012, from coast to coast. BlendAbout is a new Social Dining startup, whose aim is to match users up with new friends over great meals at local restaurants. You can book a meal at any of the restaurants below (and thousands of others), through BlendAbout.com! Go ahead and give it a try
!
1. Boundary Road (Washington, DC)
This DC restaurant isn't much more than a year old, but it's definitely here to stay. Boundary Road Brewery wows locals (including President Obama!) with their fantastic flavors, skillfully prepared dishes & chic ambiance... not to mention their attention to detail: According to @Com28, "even a cup of tea comes with lovely accoutrements." The menu changes regularly, but you can find sample menus on their website. And Sunday is Movie Night!
2. Bangkok Golden (Falls Church, VA)
A simple restaurant with an unassuming exterior, serving up top-notch Laotian and Thai cuisine. For those who haven't tried Laotian food before, the Laotian Tasting Menu is a good way to ease yourself into it... but be careful! It's spicy. For a great deal, try their lunch buffet, Mon - Fri from 11AM to 3PM & Sat- Sun from Noon to 3PM. (Thanks, @MsKungfuBokchoy for the tip!)
3. Henrietta's Table (Boston, MA)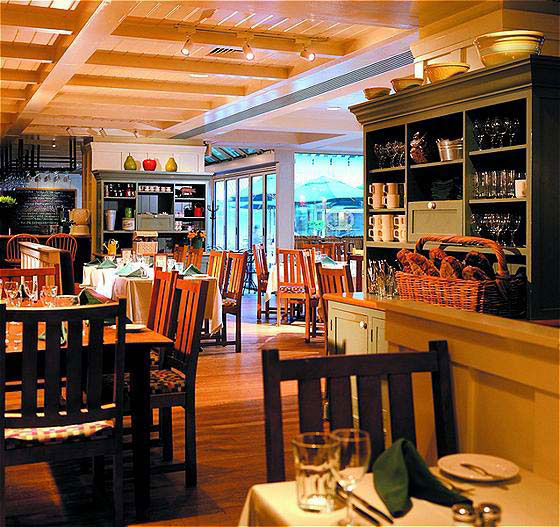 Voted Best Brunch in Boston every year since 2001, Henrietta's Table gets rave reviews for its quality service and commitment to locally grown, organic foods. Leslie Jones loves their fresh flavors so much, she ate there for Christmas this year! Note that Henrietta's will be closed for Supper until Jan. 17th... but you can still stop in for lunch any day, or try their famous brunch menu on Saturdays and Sundays.
4. Arnold Palmer's (La Quinta, CA)
Founded by the legendary golfer, Arnold Palmer's serves up contemporary American fare, with influences from various cuisines around the globe. @Tracycopy loves it so much, she says she even dreams about Head Chef Ivan Flowers' Lobster Bisque and Rack of Lamb. We've heard through the grapevine that the Prosciutto Antipasto Rolls with mascarpone, roasted peppers and fresh basil, are also worth a try!
5. Foragers City Table (Chelsea, NY)
An offshoot of the artisan market Foragers City Grocers, Foragers City Table serves only the highest quality dishes, made from the freshest ingredients. It's great for breakfast and brunch, but locals also love their cocktail menu. Next time you drop by, try their Northern Lights cocktail (bootlegger vodka, grapefruit, red wine float, elderflower, lavender bitters)! (Thanks for this one goes to @Latina_Sweetie)
Happy eating!